Meet


our team

Our complete team includes many caring individuals who share their talents and passion for senior care every day including our thorough & caring intake staff, business office staff, dedicated nurses, CNAs and therapists, a creative activities staff, housekeeping, dietary and maintenance staff, many wonderful volunteers, and others.
Monica Rakowski
Administrator
I have been with Wellington Place at Hartford since 2000 with my first position as a caregiver (CNA) on the floor. Later I became Administrative Assistant, then Regional Director, and finally Administrator in 2005. I have dedicated my career to the elderly community of Hartford area since I was 17 years old. The heart and soul of my passion is to ensure people have the top quality of life throughout their golden years. 
Wellington Place is my home away from home. I devote some of my late hours and weekends to the residents of Wellington Place by taking them out to dinner, theater plays, and other community events. I have hosted Christmas and summer parties here at the facility for years. You may even find me sitting with our residents in the community living room on a Sunday afternoon cheering on the Green Bay Packers.
Throughout my career as Administrator, I make a point to have qualifying and caring Resident Assistants, or CNAs working for the residents here at Wellington Place of Hartford. All of my staff upholds my same vision, which is to ensure the residents have the top quality of life throughout their golden years. My staff also volunteers their personal time by helping the residents with the events listed above. I am honored to express that my staff and I do go above and beyond the call of duty.
Angie Reynolds
 Care Coordinator
Lucinda "Goo" Gohman-Kramer
Activity Director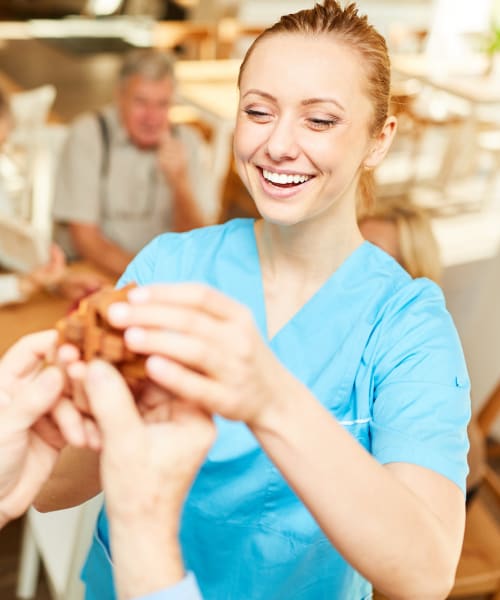 Resident Assistants:
The heartbeat of our community
Resident Assistants (RAs) are a vital part of our assisted living community, provide daily care, compassion, and companionship to our residents. RAs help with everyday tasks like dressing, hygiene, bathing, toileting, cooking and serving food, and other daily or social activities. Sometimes tasks may include non-acute nursing care such as administering medication under supervision, or changing dressings.
Our RAs come from all walks of life and can work either full or part time, with night and weekend shifts also available. And because a college degree isn't required, it's the perfect job for those starting out in healthcare, those who want a flexible part-time job, or those who just like to help others.
RAs often say the thing they like best about their job is that they get to help people and make someone's day better. As an extra bonus, because the job of an RA is personal service and caring for our residents, RAs and residents often become friends and experience very satisfying personal relationships. Come join our team, earn some money, and help others at the same time!