Meet


our team

Our complete team includes many caring individuals who share their talents and passion for senior care every day including our thorough & caring intake staff, business office staff, dedicated nurses, CNAs and therapists, a creative activities staff, housekeeping, dietary and maintenance staff, many wonderful volunteers, and others.
Jennifer Babcock
Administrator
Meet Jen Babcock, Administrator at Wellington Meadows. Although new to this position in fall 2021, Jen is a veteran in the senior care industry and has been part of Wisconsin Illinois Senior Housing Inc., our parent nonprofit organization, since 2013.
Prior to her appointment as Administrator here at Meadows, Jen was the Business Office Manager at Edgerton Care Center, a skilled nursing facility in Edgerton, WI which is also part of the WISH-owned network of senior care facilities.  She has vast experience working with families, residents, vendors and the community to meet needs, solve problems and form lasting relationships.
Jen was born and raised in Fort Atkinson and, along with her husband, is now raising her own family here which includes three terrific children. Family holds a very important place in Jen's heart, and her aim is to bring that feeling and essence into Wellington Meadows for everyone who comes through our doors.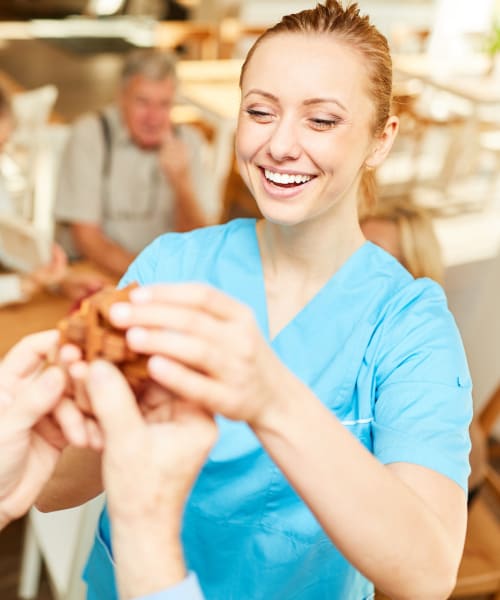 Resident Assistants:
The heartbeat of our community
Resident assistants (RAs) are a vital part of our assisted living community, provide daily care, compassion, and companionship to our residents. RAs help with everyday tasks like dressing, hygiene, bathing, toileting, cooking and serving food, and other daily or social activities. Sometimes tasks may include non-acute nursing care such as administering medication under supervision, or changing dressings.
Our RAs come from all walks of life and can work either full or part time, with night and weekend shifts also available. And because a college degree isn't required, it's the perfect job for those starting out in healthcare, those who want a flexible part-time job, or those who just like to help others.
RAs often say the thing they like best about their job is that they get to help people and make someone's day better. As an extra bonus, because the job of an RA is personal service and caring for our residents, RAs and residents often become friends and experience very satisfying personal relationships. Come join our team, earn some money, and help others at the same time!